The aesthetic element in Shakespeare's works reaches its peak in his famous sonnets where the images, rhythms, sounds and colours add meaning to his poetical art.
Each of them conveys feelings, portraits, cues to reflect, memories, hope or disillusionment, the unforgiving passing of time.
No doubt, an instrument of disclosure of the human soul intentionally undistinguished from the natural world around. And, all of a sudden, here they are: flowers, plants, herbs, trees which instil life and colours to the feelings, sensations and emotions Shakespeare makes us sense, touch and smell, as an essential part of our existence.
In this context and with the aim to enlarge the cultural-educational offer of the Shakespearian pathways, the Botanical Garden has designed a walk path between science and art to the discovery of the botanical and poetical heritage arising from this selection of Shakespeare's Sonnets.
Let those who are in favour with their stars
Of public honour and proud titles boast,
Whilst I, whom fortune of such triumph bars,
Unlook'd for joy in that I honour most.
Great princes' favourites their fair leaves spread
But as the MARIGOLD at the sun's eye,
And in themselves their pride lies buried,
For at a frown they in their glory die.
The painful warrior famoused for fight,
After a thousand victories once foil'd,
Is from the book of honour razed quite,
And all the rest forgot for which he toil'd:
Then happy I, that love and am beloved
Where I may not remove nor be removed.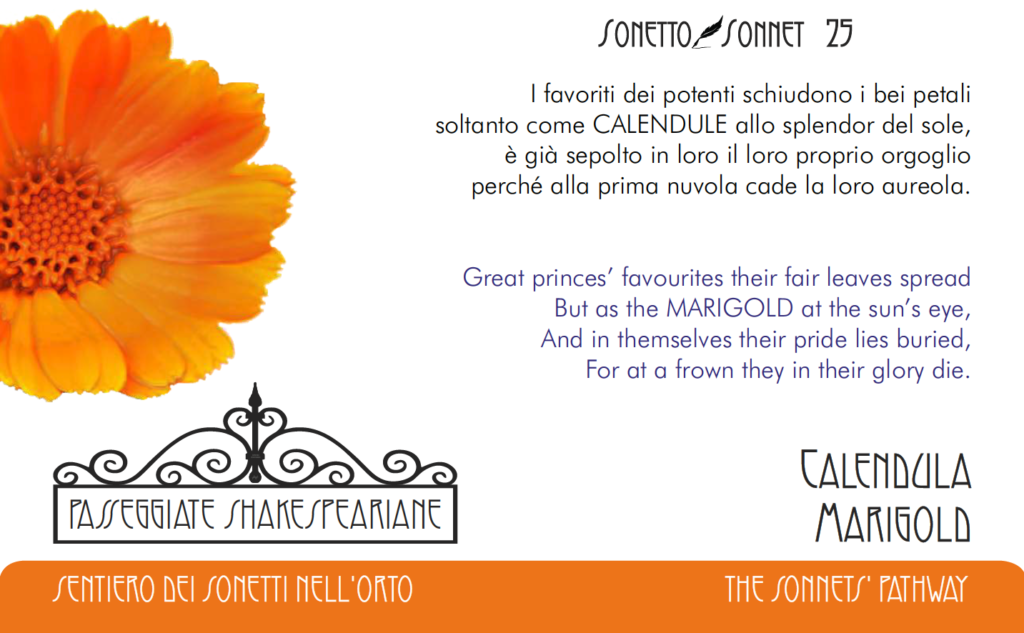 O, how much more doth beauty beauteous seem
By that sweet ornament which truth doth give!
The ROSE looks fair, but fairer we it deem
For that sweet odour which doth in it live.
The canker-blooms have full as deep a dye
As the perfumed tincture of the roses,
Hang on such thorns and play as wantonly
When summer's breath their masked buds discloses:
But, for their virtue only is their show,
They live unwoo'd and unrespected fade,
Die to themselves. Sweet roses do not so;
Of their sweet deaths are sweetest odours made:
And so of you, beauteous and lovely youth,
When that shall fade, my verse distills your truth.
So shall I live, supposing thou art true,
Like a deceived husband; so love's face
May still seem love to me, though alter'd new;
Thy looks with me, thy heart in other place:
For there can live no hatred in thine eye,
Therefore in that I cannot know thy change.
In many's looks the false heart's history
Is writ in moods and frowns and wrinkles strange,
But heaven in thy creation did decree
That in thy face sweet love should ever dwell;
Whate'er thy thoughts or thy heart's workings be,
Thy looks should nothing thence but sweetness tell.
How like Eve's APPLE doth thy beauty grow,
if thy sweet virtue answer not thy show!
They that have power to hurt and will do none,
That do not do the thing they most do show,
Who, moving others, are themselves as stone,
Unmoved, cold, and to temptation slow,
They rightly do inherit heaven's graces
And husband nature's riches from expense;
They are the lords and owners of their faces,
Others but stewards of their excellence.
The summer's flower is to the summer sweet,
Though to itself it only live and die,
But if that flower with base infection meet,
The basest weed outbraves his dignity:
For sweetest things turn sourest by their deeds;
LILIES that fester smell far worse than weeds.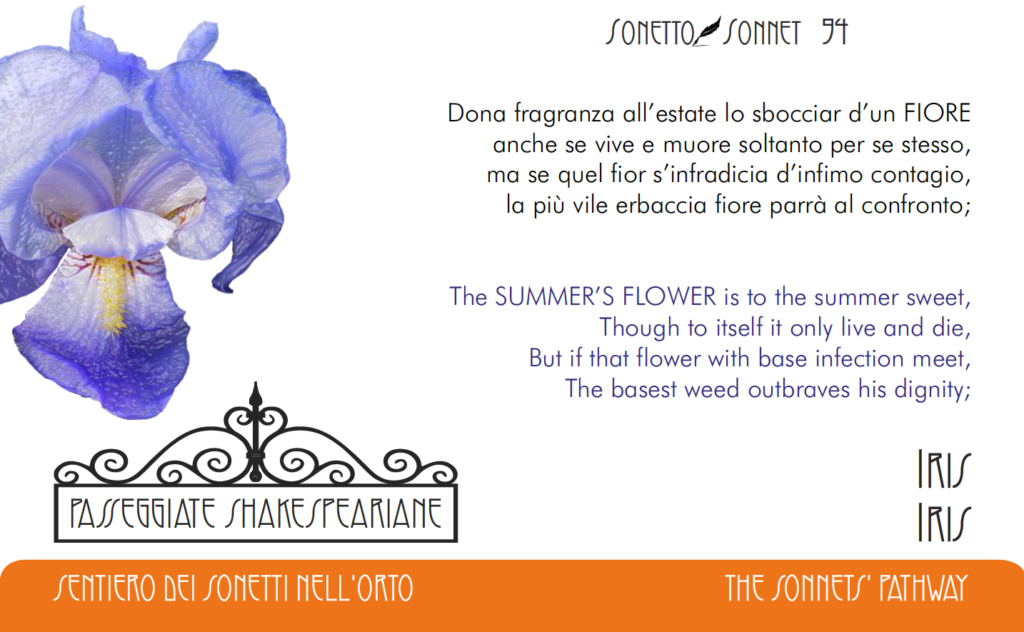 From you have I been absent in the spring,
When proud-pied April dress'd in all his trim
Hath put a spirit of youth in every thing,
That heavy Saturn laugh'd and leap'd with him.
Yet nor the lays of birds nor the sweet smell
Of different flowers in odour and in hue
Could make me any summer's story tell,
Or from their proud lap pluck them where they grew;
Nor did I wonder at the LILY's white,
Nor praise the deep vermilion in the ROSE;
They were but sweet, but figures of delight,
Drawn after you, you pattern of all those.
Yet seem'd it winter still, and, you away,
As with your shadow I with these did play.
The forward VIOLET thus did I chide:
Sweet thief, whence didst thou steal thy sweet that smells,
If not from my love's breath? The purple pride
Which on thy soft cheek for complexion dwells
In my love's veins thou hast too grossly dyed.
The LILY I condemned for thy hand,
And buds of MARJORAM had stol'n thy hair:
The ROSES fearfully on thorns did stand,
One blushing shame, another white despair;
A third, nor red nor white, had stol'n of both
And to his robbery had annex'd thy breath;
But, for his theft, in pride of all his growth
A vengeful canker eat him up to death.
More flowers I noted, yet I none could see
But sweet or colour it had stol'n from thee.